Saturday morning was the big day after training hard for a month on Poomsae 1,2,3,4,5 & 8 it was time to test our skill.
Amanda and I were the 2 foreigners testing with 6 other Koreans.
You have a picture and number tagged to your uniform and stamped by the officials before starting and waiting anxiously while the grades before you perform in front of the judges.
Then it was our turn. First up it is the general test of punching and kicking skill with a straight punch technique, front down or ax kick, front kick and I couldn't hear what the last kick was but I guess it was a side high kick... I cant spell the Korean names for these kicks... :/
Then it was Poomsae 3 and 8... 3 is my worst as well as 2 but I made it through.
Finally its the sparring 1 minute or so "exhibition" to demonstrate skill. However it never really turns out to be an exhibition as everyone tries to kick a hole in each other.
I managed to launch a kicking attach and be kicked in the head at the same time causing me to fall. So if you would enjoy watching me get kicked in the head then I have a video of that for you to see :) The sparring went well I guess as I landed a few more kicks but it still looks messy and scrappy but I guess you cant expect much more than that for a 1 minute show of skill rather than an actual fight.
So at the end of it all I was just so relieved as this has been such a hectic month (still a little more to go) and I am taking a day to do nothing and relax.
Here are some photos and video's of the event: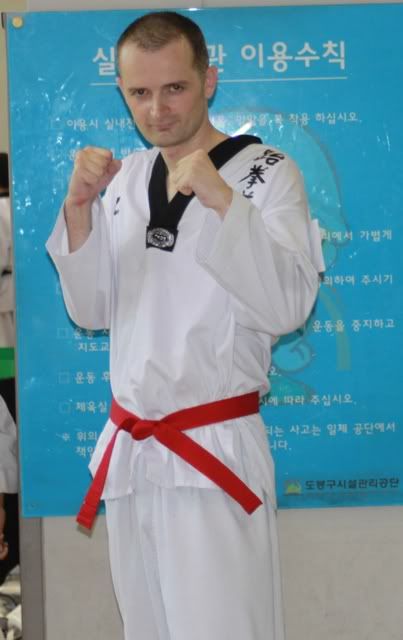 Me and Amanda from Dong In branch.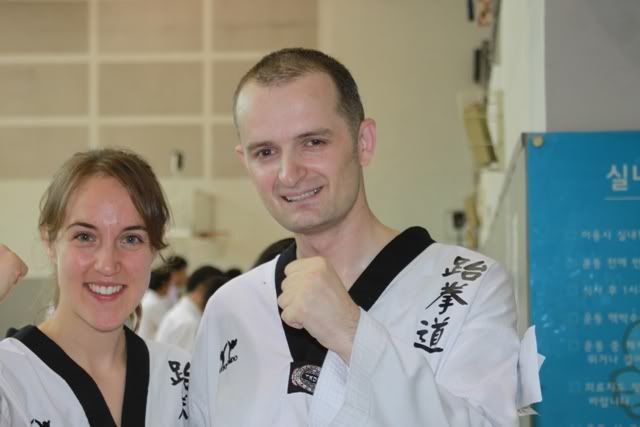 Me and my best friend :)
Here are the videos:
And some sparring fights that took place after mine:
I am going to be fairly busy next weekend and I will post about that (if it is possible... I may not have internet next weekend)... So I may be posting or not but I will have something to tell you about when I can :)
Have a great week and I will see you soon!