Gold and Silver are exploding and all indications are that it is going to keep going on into the future. So I hear you say "Where can I get some gold or silver in South Korea?"
What a fantastic question!
Here is what I found while searching google for the answer to this question...
ej105 asked:
I really am frustrated when it comes to investing in South Korea. I want to buy some gold coins or gold bullions but here in Korea, there are no gold coin shops. Banks don't sell gold. The Korean mint does not make gold coins. Of course this is just the top of the iceberg compared to the problems I am having with investing my money while I am working in South Korea. Did you know that Korean brokers do not give you a prospectus on each stock before you buy it? Also, some dealers just give you a handful of stocks and you don't know the companies. Yeah, that's South Korea for you.
Anyway, does anyone know how I can buy or invest in gold in South Korea? Or how about Asia, I am willing to travel anywhere in Asia for great deals in gold, Hong Kong, Singapore, India, anywhere in Asia.
(search for pharmacy technician colleges)
Sorry for being long winded but Korea's investments strategies are a$$-backwards
Well I agree somewhat. It is not an easy thing to do finding where to buy bullion or coins. And if you are not into buying keys, turtles and pigs you will be hard pressed to find gold in coin or bar form. However after a bit of footwork and internet research I may have a few answers for you.
Jongno 3 (sam) ga - station. This is where "everyone" goes for "wholesale" jewellery. Personally I would rather look elsewhere for fine jewellery as I saw nothing of interesting or unique quality but I digress...
I did find 2 places selling 1000g or 1kg silver bars and another store selling 3.75 - 1oz bars of gold.
This is the store selling silver bars - I was given a price of 2,530,000 W as of 24-04-2011. $US1,518.16 is the spot price today which is roughly 1,639,000 won so that price is a little bit more than I expected over the spot price but considering I was not buying I did not attempt any negotiation.
The gold store gave me a price on 3.75g of gold 245,000 w spot is $US 48.45 = 196,243 w so again more expensive than it should be over spot but I was not intersted in the least.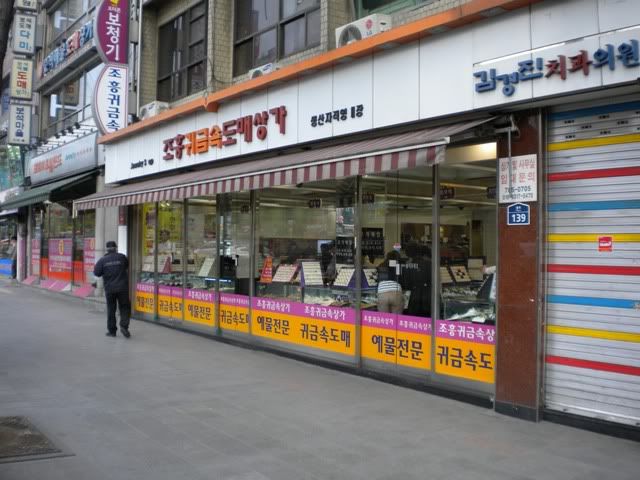 Outside Namdaemun market next to Namdamunro (?) underground shopping centre. Now this is where Korea becomes interesting because this store has many gold coins in the window from all over the world and yet when I enquired (the store attendant didn't speak much English but a long story short the store manager (who was not there) is not selling the coins......... ?....... what is the purpose of displaying something you are not selling?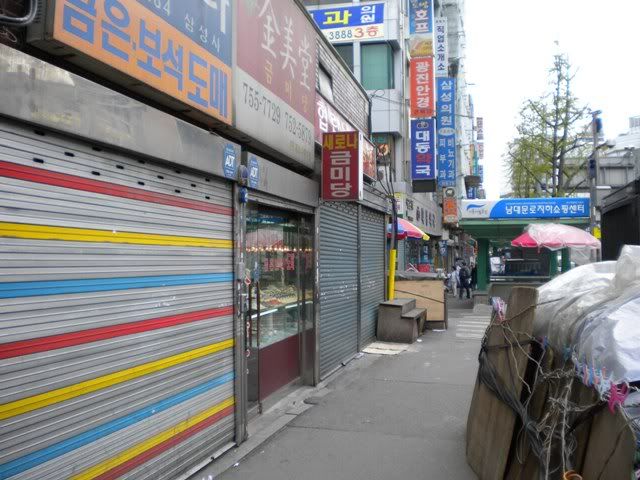 If you are into collecting or getting some 90% US silver coins (Liberty ect...) or .999 troy oz Korean coins e.g. APEC or G20 then you may... find some deals here: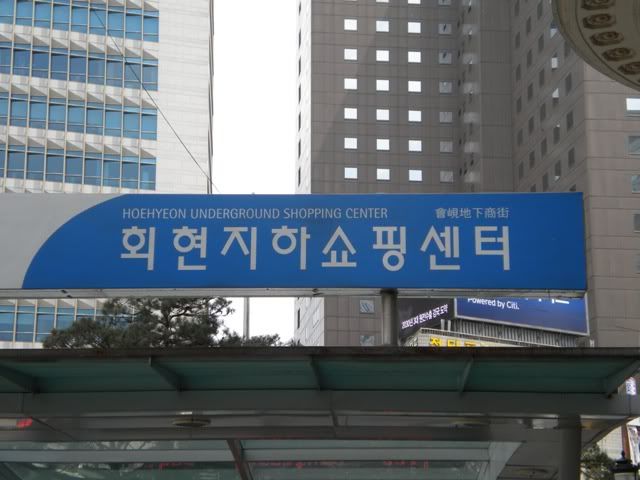 By Shinsegae Mall just up from Namdaemun market is this underground shopping centre with perhaps a dozen coin dealers, some with australian gold coins or US coins. My pick is this guy: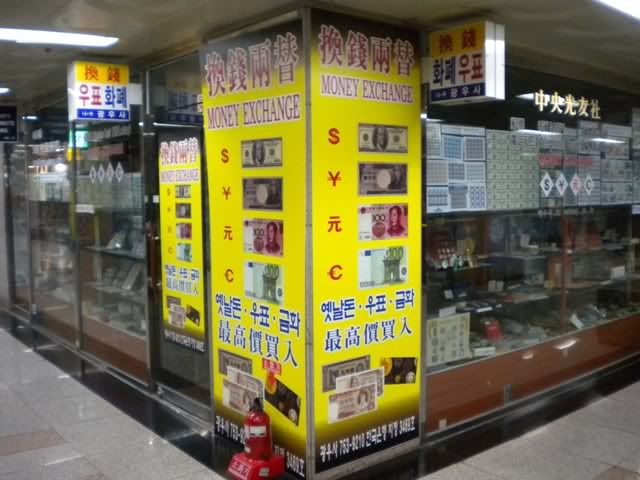 There are also guys that deal in coins like this: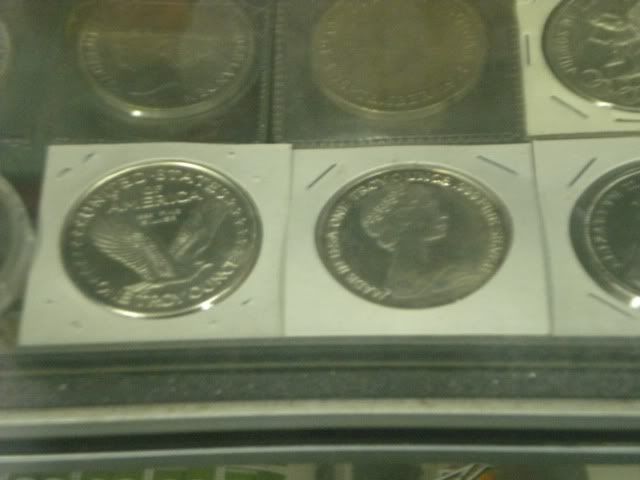 1 Troy ounce .999 Made in USA stamped on it with the queens head....... hmmmmm that's interesting : /
Here is that store might be worth a laugh or keep well away from?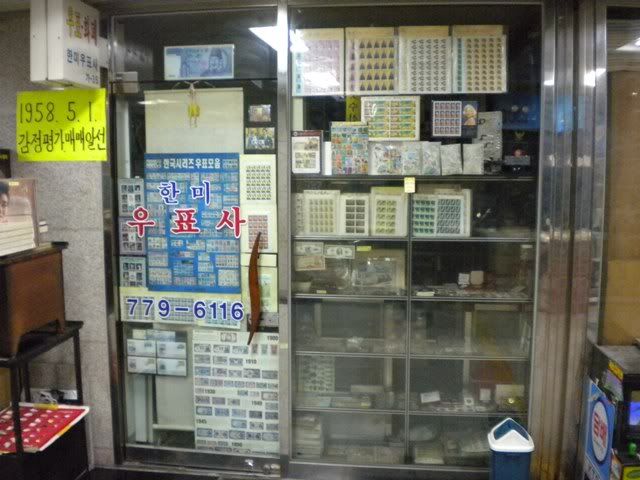 There is also the Seoul Flea Market in Sinseol-dong with a couple of coin dealers with an occasional rarity e.g. a mercury dime.
However.... this week I am going to see if I can get some silver ounces from Komsco (the Korean Mint). The Korean mint site however is bordering on impossible to use as a foreigner and if you think clicking on "English" will help, as with many Korean websites you are sorely mistaken as it takes you somewhere that you dont want to be.
So to make things easier for you I have this link which will take you to the Korean Mint coin collection where you can buy silver or gold. You may have to play around a little and it would definitely help to have a Korean buddy help you!
http://www.koreamint.com/index.jsp
I will see how things go this week, see if I can buy and get something delivered and report back on how easy the process was next week so stay tuned.
If you are not into gold and silver, sorry I do apologise for boring you... have a sandrich :)
I almost forgot this one... taken from www.trademe.co.nz (New Zealand's equivalent of eBay)... for a 1978 "silver dollar:...
Hi, I think these are copper/nickle and do not contain any silver, cheers xxxx 3:43 pm, Sun 24 Apr
I have a $2 reserve/start price on this "Silver Dollar" I have NOT said it is made of silver but I do know that
it is known as a silver dollar and that is the colour of the coin which is what I have said in the auction. If
someone buys it for $2 what does it matter what it is made of? I may sound a bit terse but this is the 5th time
someone has told me that the coin is not silver. Frankly I think after this I will withdraw the auction and throw
the coin away. 5:47 pm, Sun 24 Apr
Got to love that "kiwi" spirit! :D