Wednesday was Chuseok and I was off to visit Bucheon. I arrived and was immediately impressed with all the activity surrounding the subway station. Even though many of the stores were closed for the holiday I was still able to get a sense of the place. I had yet to see a "spacies parlor" or entertainment arcade but in Bucheon there are 2 in very close proximity along with a movie theatre, clubs, bars and fashion stores. All of these things are in a compact block from the subway station so you can shop Georgiano, Lacoste, Calvin Klein and many other branded stores with ease. I went for my usual exploration walk to a park (probably 5k's from the station) which had a wonderful cycling track around it and many water features and art scattered about.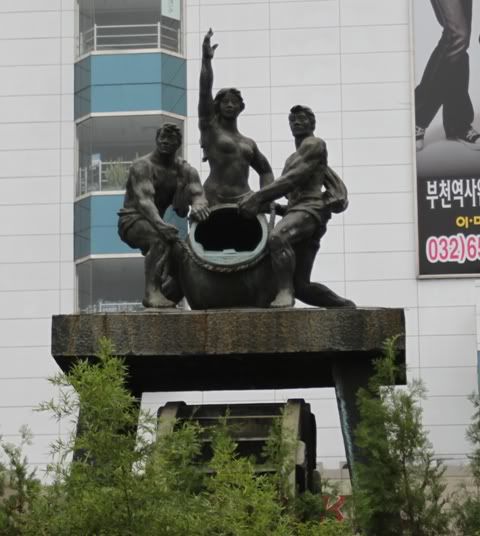 One thing that is starting to get noticeable is the cold. For the first time in three and a half months I have had to close my windows. I think I had better get some warmer clothes shortly!
Yesterday I had to go on the roof of the neighbouring apartment block as there was this tiny kitten up there yelling... and yelling for hours. So I went up there and got it as it seemed it somehow got up the stairs and was locked up on the roof as the door to the stair well was closed. I was thanked with a hiss and a scratch for my troubles :)
Saturday I was invited for a quick lunch at Insadong at a traditional Korean restaurant before having traditional rice tea at a tea house. I did not have much time to see any of Insadong so it is on my "return to do" list.
I did however have another appointment at Jamsil to visit Lotte World's Folk Museum. It cost's 5000 won for a ticket and is an educational tour through the ages showing tools and historical places and is worth a visit if you have roughly 40 minutes to kill. Another thing I added to my "return to do list" was the Adventure Land part of Lotte World... here is the link:
There is just so much to do and I know I have said this before but it is really difficult to find the time to do it all!!! The other great thing about Korea is when you start making friends with the Korean's your social networks (or friends) just keep expanding with friends introducing you to their friends who then become your friends also.
I did finish Saturday with a very pleasant walk through Olympic Park (and now having been there twice I still have not seen the whole park!) possibly one of the last times before the cold really settles in.
Here is the rest of the photoset:
I know I promised last week to show you a picture of a t-shirt I got last week so here it is:
You can get this t-shirt here and also find out more about Spudgy :)